Who We Are
The Mountain View-Los Altos High School Foundation invests in a learning environment that empowers all students to thrive and succeed. Donations are tax deductible, as we are a nonprofit public benefit 501(c)3 corporation — Tax ID number 94-2848246.
Quick Links  ›
Survey Results are in!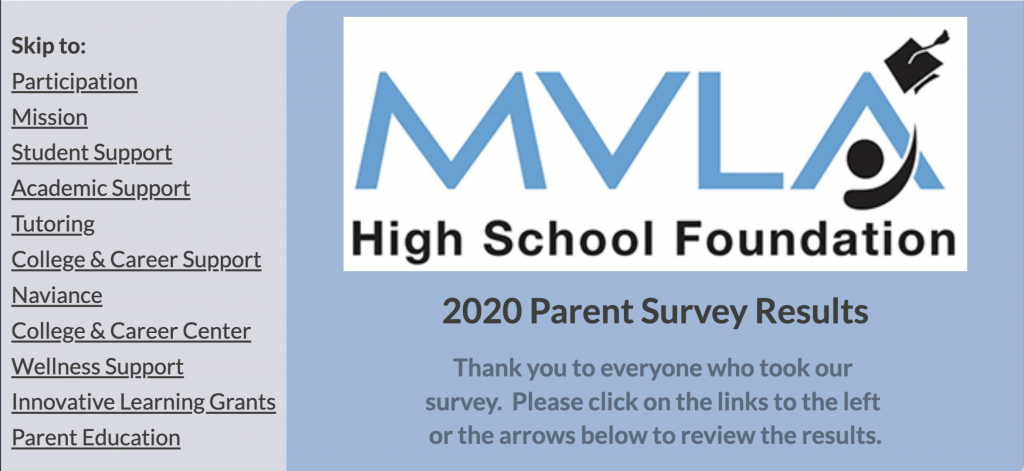 $100,000 Google Grant

"We are grateful for the generosity of Google and their support of our learning community. This grant will allow us to support students with distance learning and give them the tools necessary for success." 
Superintendent Dr. Nellie Meyer
COVID-19
How can MVLA families help each other?
We have many MVLA families in need of support, and the most effective way to help is to provide support to organizations that have the infrastructure in place to deliver assistance.
Does your family need assistance?
Participation matters.
Donate today!
News & Info
Archive
What People Say About the Foundation…
"As a result of the foundation's investment in the College and Career Centers, more of our students are gaining admission into their first choice colleges."
– Dr. Nellie Meyer, MVLA Superintendent
"The Foundation has allowed our high schools to maintain the best possible learning environment for all of our students… We would not be the schools that we are today without the support of the MVLA Foundation."
– Wynne Satterwhite, LAHS Principal
"On Naviance I could see what GPAs and test scores it took to get into to each college, and I created a list of schools realistic for me."
– MVLA High School Foundation Student
"Smaller classe sizes enable teachers to spend more time with each student and better cater to multiple learning styles. We can build personal rapport and help our 9th grade students as they mature and adapt to the demands of high school."
– MVLA High School District Teacher
"The Tutorial Center has really been my daughter's lifeline in honors and AP chem. Thanks!"
– MVLA High School District Parent